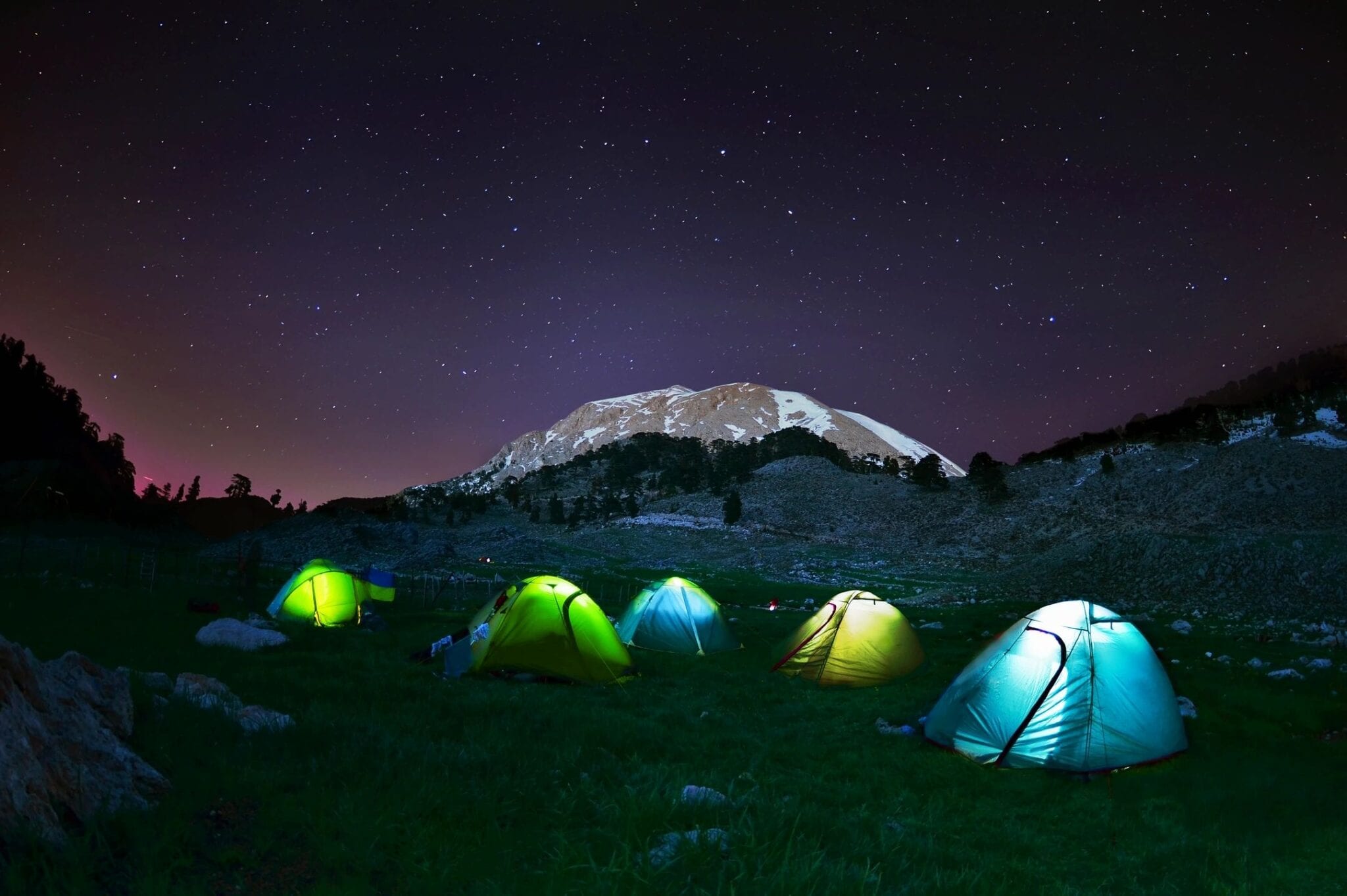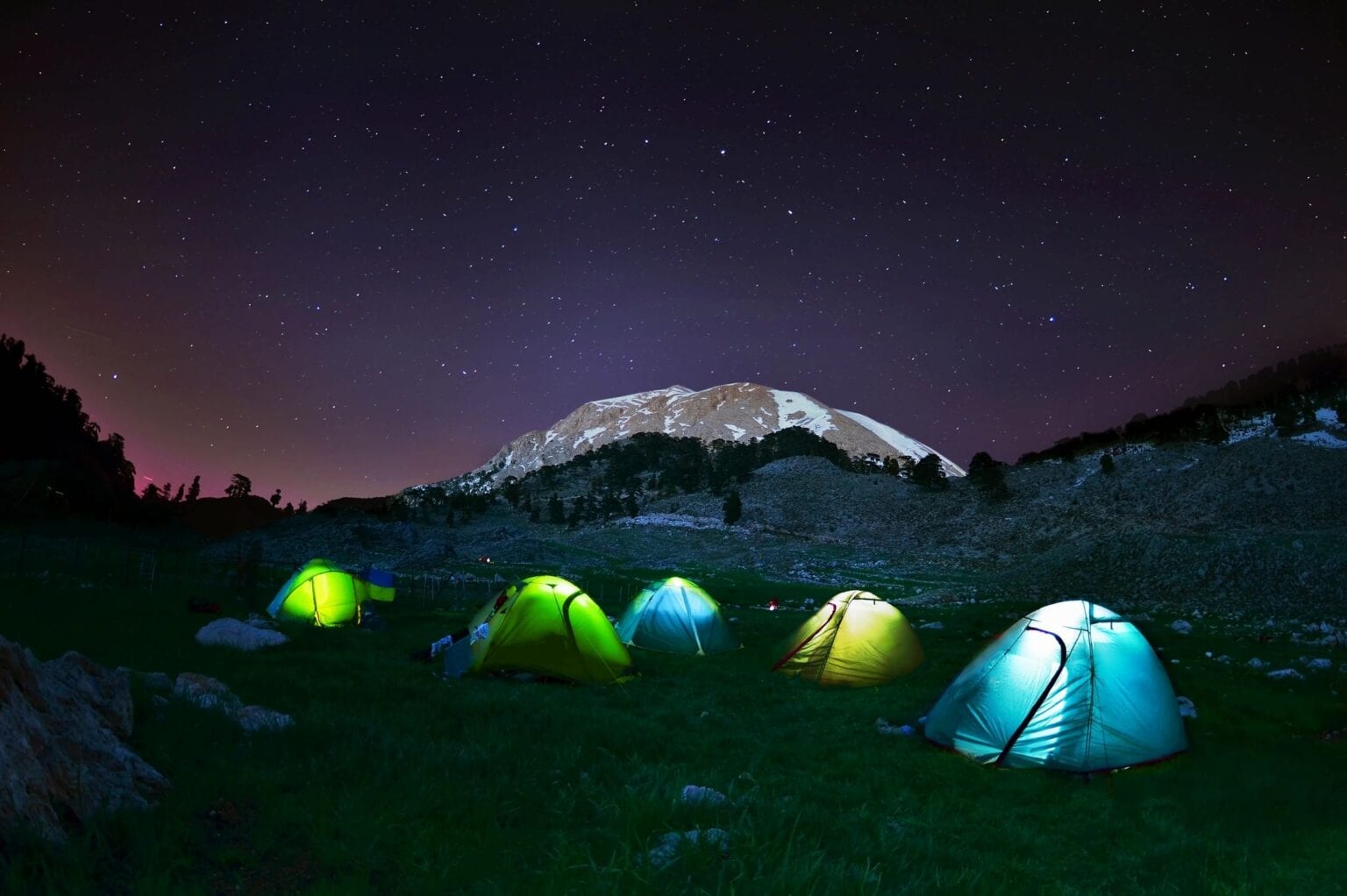 Trying to decide what tent is best for your camping adventures? Buying a tent can be somewhat intimidating as you contend with a wide range of models and potentially hefty price tag—plus the risk of an epic fail. Ultimately, there's nothing like trying out tents on your own, but here's an outline to get you started thinking about the right tent for you.
As a preliminary matter, you'll need to decide what size is right, which of course depends on your typical group size. Tents can range from 1-person to 20-person, at last check. There's no industry standard for per-person size, unfortunately. Be sure you won't be touching the sides of the tent, which will make you damp from condensation. Taller folks should take extra care to make sure the tent is long enough for them. And consider peak height to determine whether you'll be able to stand up inside the tent. Higher peak height allows for changing clothes and other activities inside the tent and provides a more comfortable space if rainy weather forces you to spend extra time in the tent. For backpacking tents, consider whether the peak height allows you to comfortably sit up within the tent.
If you're car camping, choose a tent designed for at least one more person than you'll have in your tent. Our family of 2 adults, 1 kid, and 1 dog uses a 6-person tent, which feels just right to us. It's nice to have room to hang out inside the tent if it's rainy or if mosquitoes drive you into your tent. A larger tent is also helpful if you have a small child who sleeps in a portable crib. When deciding how much space you need, give thought to how much gear you'll keep inside and how much room the pooch will take up. If you're considering a mega-tent, be aware that some tent pads at developed sites may be too small for your tent.
For backpacking, you want the lightest weight possible while still retaining a measure of comfort. A standard rule of thumb is that the tent should weigh 2 to 2.5 pounds per person or less. So, you'll want to buy a tent designed for the exact number of people who'll be sleeping in it.
Now we'll run through some of the major distinguishing characteristics of tents.
Tent categories
First up, tents can generally be lumped into three major categories:
Car camping tents
Backpacking tents, which can also be used for canoeing, bikepacking, and other activities
Mountaineering tents
Car camping tents are designed to maximize comfort without real regard to weight, while low weight and compactness are crucial for backpacking tents. Mountaineering tents need to be relatively light and also able to withstand harsh alpine conditions.
The season that the tent is designed for is also a big factor. There are three main types:
3-season (spring-fall): a good choice for most campers
3-plus-season: can handle a little snow, yet aren't at the top of their game in weather at either extreme
4-season: designed for serious winter conditions, so may be toasty in warm weather because of poor ventilation
Closely related to season is the basic construction method of the tent: double-walled vs. single-walled.
Most tents are double-walled. This normally means that the tent has a mesh-paneled inner wall along with a fly, producing superior ventilation and flexibility. Campers can ditch the fly altogether on dry, warm nights. Double-wall construction is common for 3-season tents.
Single-wall construction is often used for mountaineering tents. This construction produces a tent that is easier to set up, lighter, warmer, and more resistant to wind. The downside: condensation tends to form within the tent.
Whether or not the tent is freestanding is another important construction-related characteristic:
Freestanding tents—the most common type of tent—can stand up on their own without stakes and guylines. (If the tent isn't staked, it needs to be weighed down with gear or the like. You'd be amazed how far a tent can fly in a good gust!)
Non-freestanding tents must be staked, which can be challenging on some surfaces. They're generally somewhat lighter, so may be preferable for backpacking.
Tent shape
Next up is tent shape. The following are some of the most common tent shapes nowadays:
Dome: A very popular, freestanding style that's generally easy to set up. Some are an "instant" style that sets up very quickly because the poles and tent are already attached. Dome tents handle wind and rain better than a cabin style but feel less spacious than a cabin because the walls tilt inward somewhat.
Cabin: Cabin-style tents provide a roomy style in the shape of, well, a cabin. Some are designed for instant set-up. They often have a larger capacity and footprint and are relatively heavy. Some have room dividers. Due to their shape, they're not always great in wind.
Hoop: A compact, lightweight style, requiring careful staking and not particularly roomy. Single-hoop styles are designed for 1 or 2 people.
Tunnel: In general,tunnel tents are relatively small and can provide good stability in winds when properly pitched. This style is sometimes used for backpacking tents.
Features of tents include the following:
Doors should allow for relatively easy access; some campers prefer having more than one door
Vestibules are a sheltered area next to the door where you can stow gear and cook in poor weather.
Ventilation is important to reduce condensation and keep inside temperatures cool; roof vents facilitate ventilation.
Guylines are a part of some tent designs, used to keep the tent taut and protected from rain and wind (look for reflective ones to avoid embarrassing tripping incidents)
Stakes secure the tent to the ground and come in varying degrees of weight (important for backpacking) and durability. You may want to purchase metal stakes that are tougher than the ones that come with a tent.
Poles support the tent; aluminum poles are lighter and more durable than fiberglass.
Screen rooms are a feature on some car camping tents, providing a place to escape from bugs.
Tub floor construction means that the floor extends up all of the tent sides for a few inches before the wall panels start; this feature helps prevent leaks.
Pockets, lofts, and loops help with stashing stuff and letting stuff dry.
When it comes to tent material, most tents are made of nylon these days, though ultra-light tents may be made of special materials. "Denier" is the measurement for mass of fabric; higher denier means heavier and heavier-duty, and vice versa.
No-see-um mesh is used as a part of most modern tents. It provides ventilation while keeping out even tiny insects, though it's more prone to tears than a solid fabric. Coleman now offers tent fabric made with "Dark Room" technology, which keeps the inside of the tent cooler and darker.
In addition to the standard features of your tent, you may want to consider a few additional accessories:
A ground cloth laid just outside the door of your tent works wonders as far as keeping the tent clean.
A tent "footprint" helps protect the tent floor from rough materials on the ground and helps prevent moisture from accumulating on the bottom of your tent. A footprint may or may not come with the tent. You can buy or make your own (we hear Tyvek is a popular choice for DIY'ers), or you can use a tarp. Either way, it should be just a bit smaller than the tent to prevent water from running under the tent.
Lofts for stowing gear in the ceiling area are a handy accessory that's often sold separately.
Last but not least, it's wise to travel with a repair kit.
We've covered the most common types of tents on the market, but special types are also available, including rooftop tents, tarp tents, and bivouacs or bivy sacks (a small shelter that slips over a sleeping bag and is meant primarily for mountaineers). Of course, an alternative to the tent is sleeping in a hammock.
Some additional words of wisdom about tents:
Give your tent a test-run before taking it camping for the first time
Consider applying seam sealer to prevent drips
Store your tent somewhat loosely, though you can use a compression sack while traveling
Let the tent fully dry before packing it up
Below we list some well-reviewed models of car camping and backpacking tents.
Car camping tents
Backpacking tents
For additional details about 2020 camping tents, you can consult the following review sites: