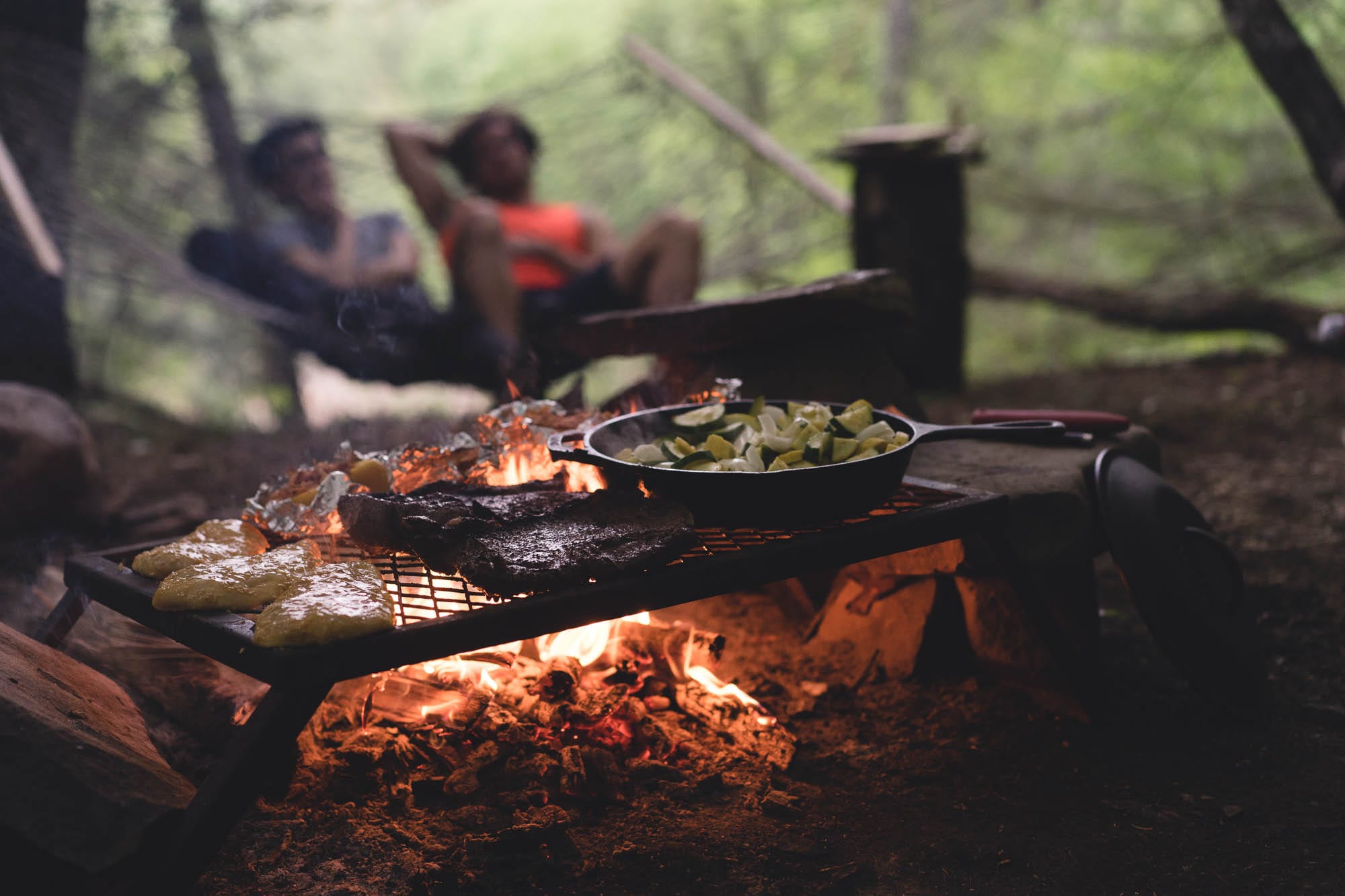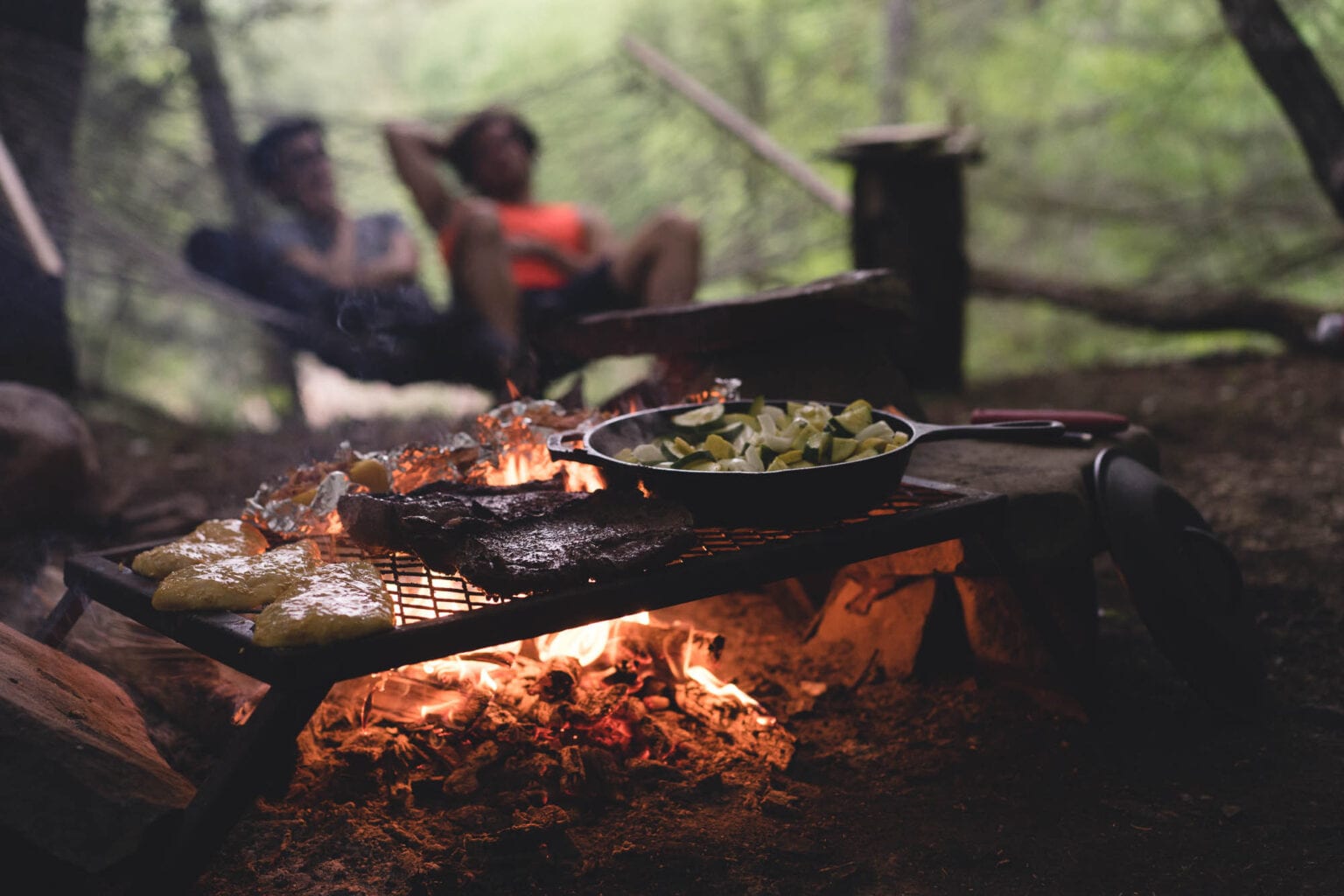 Unless you like to simply snack and drink chilled coffee while you're camping (and there's nothing wrong with that), you'll need a set of a camping stove, cookware, dishware, and various cooking accessories. How do you choose the right cooking gear for your next camping trip? Read on.
Camping stoves
First up is the topic of camping stoves.
When buying a camping stove, you'll want to consider the following factors: weight, durability, number of burners, ease of use, speed of boiling, simmering ability, performance in wind and cold temperatures, and of course price.
Generally speaking, camping stoves can be lumped into a few categories: standard campground stoves, canister stoves, integrated canister systems, liquid fuel stoves, solid fuel stoves, and wood burning stoves.
Campground stoves are great for car camping but are a no-go for backpacking. Some stoves that will work for backpackers, however, will also do fine for small car camping groups who don't plan to do a lot of fancy cooking.
Standard campground stoves are propane-powered and come in various sizes, from 1 to 2 to even more burners. Table-top models are relatively compact. Freestanding models are larger, heavier, and generally more powerful. The cooking power of campground stoves is measured in BTUs. Camp Chef's website shows how to evaluate how many BTUs you need. Some campground stoves come equipped with features like a grill and/or a griddle. Well-reviewed table-top models include the Camp Chef Everest (the powerful choice), the Eureka Ignite 2-Burner Camp Stove (the stylish choice), and the Coleman Classic Camping Stove (the budget choice). A good freestanding model is the Camp Chef Explorer 2-Burner.
Canister stoves are a versatile, popular option that work for many car campers and also for backpackers. These stoves screw onto isobutane/propane fuel canisters. They are compact, lightweight, affordable, easy to use, boil quickly, are safe when there is an elevated risk of wildfire, and don't require priming. The downsides are that they're not particularly stable, they're not great in wind or extreme cold, and it's not safe to use windscreens with them. A great canister stove choice is the MSR PocketRocket 2. (When you've used up canisters, try this tool, which prepares empty canisters for recycling.)
Integrated canister systems like the Jetboil Flash lack an open burner—instead, they feature an integrated design with a boiling pot that attaches to a stove that connects to fuel canister. They're great for simple meals that require boiling water. These systems are lightweight, easy to ignite, portable, and boil quickly. But they're somewhat more expensive, may lack the ability to control simmering, and can be susceptible to tipping over.
Liquid fuel stoves like the MSR WhisperLite normally use white gas. They're heavier and bulkier than canister stoves, require priming and maintenance, and fuel spills are possible. But they work well in extreme cold and at high elevation, feature good simmering ability, and are sturdy.
Solid fuel stoves use a fuel tab. They're compact, lightweight, and simple, but have slower cooking times, are smelly, and leave residue on the bottom of pots. An example is the Esbit Solid Fuel Stove and Cookset.
Wood-burning stoves don't require the purchase of fuel, instead using a renewable fuel source. Downsides are that they're not easy for beginners to use, wood is not be available in all camping areas, and they may be subject to fire bans. An example is the Solo Stove Lite.
Whichever camp stove you choose, avoid carbon monoxide poisoning by storing your stove outside the tent. Never use stoves for warmth inside the tent.
Camping cookware
Now that you're acquainted with stoves, let's get you up to speed on camping cookware.
You can purchase camping cooking ware individually or as part of a set. A set nests together nicely (and looks coordinated), though it may contain more pieces than you need.
What types of cookware do you need? A pot with a lid is the essential item. Depending on the size of your group and the complexity of your meals, you may want two sizes of pots, a frying pan, and a Dutch oven. Also consider a cast-iron frying pan, which is extremely durable and does a great job with cooking a range of tasty food like eggs, veggies, and meat.
Considerations in choosing camping cookware include weight, price, durability, heating ability, whether food sticks, and ease of cleaning. Remember that lids are important for heating efficiency (including for skillets). Some lids are designed to double as a pan, cutting board, or plate, and some can fit over multiple pans. Pans can come with or without handles. Handles take up more room than a separate lifter but are easy to use; do avoid plastic handles. Exercise care if you choose cookware with non-stick coating, which presents potential health concerns and can be easily scratched off.
Here are some of the top choices for cookware material, along with pros and cons:
Aluminum – usually hard-anodized electrochemically

Low price
Heats quickly/conducts well
Lightweight
Not as durable as stainless steel
May have non-stick coating that needs careful treatment
Non-anodized aluminum can leave a metallic taste, cause food to burn on, and react with acids in food

Titanium

Very lightweight
Fast cooking
Durable
Does not cook as consistently as steel
Expensive

Stainless steel

Durable
Not as lightweight as some other choices
More expensive than aluminum but less expensive than titanium
Does not conduct heat as well as some other choices
Food may stick

Cast-iron

Durable
Can be used for baking
Good heat distribution
Naturally non-stick
Very heavy
Check out Gear Lab's super-helpful reviews of camping cookware.
Camping dishes and cutlery
Many campers like to bring specially designed dishes and cutlery. When camping, you want dishware that is light, durable, easily to clean, and packable. As with cookware, buying a dinnerware set allows nesting, which saves packing space. Camp dishes may be made of polypropylene, stainless steel, plastic, melamine, enamel, or other materials.
Camping cutlery is often lightweight. Cutlery designed for backpacking may be foldable or otherwise be designed for efficiency, as in the case of sporks. Look for BPA-free plastic. An excellent choice is the GSI Outdoors Cascadian Table Set.
Finally, you may want an assortment of supplies to prepare meals at your campsite. These supplies can be divided into near-critical and optional categories.
Critical supplies for camp cooking
Matches/lighter
Sponge/scrubbing pad
Biodegradable dish soap
Water jug/container
Trash/recycling bags
Optional supplies for camp cooking
Cooking/serving utensils, like serving spoon, spatula, whisk, ladle, tongs
Sharp knife
Cutting surface
Lifter for pots
Heat-resistant gloves
Portable grill
Can opener
Bottle opener
Corkscrew
Wine glass
French press
Insulated mug
Egg holder
Steramine tablets (to sanitize dishes)
Pan scraper
Condiments (salt/pepper, spices, etc.)
Long-handled forks (try these personalized ones)
Dishwashing sink or bucket (try this collapsible sink)
Towel