Unless you're planning to camp above the Arctic Circle in the summer, lighting is an essential ingredient for your camping trip.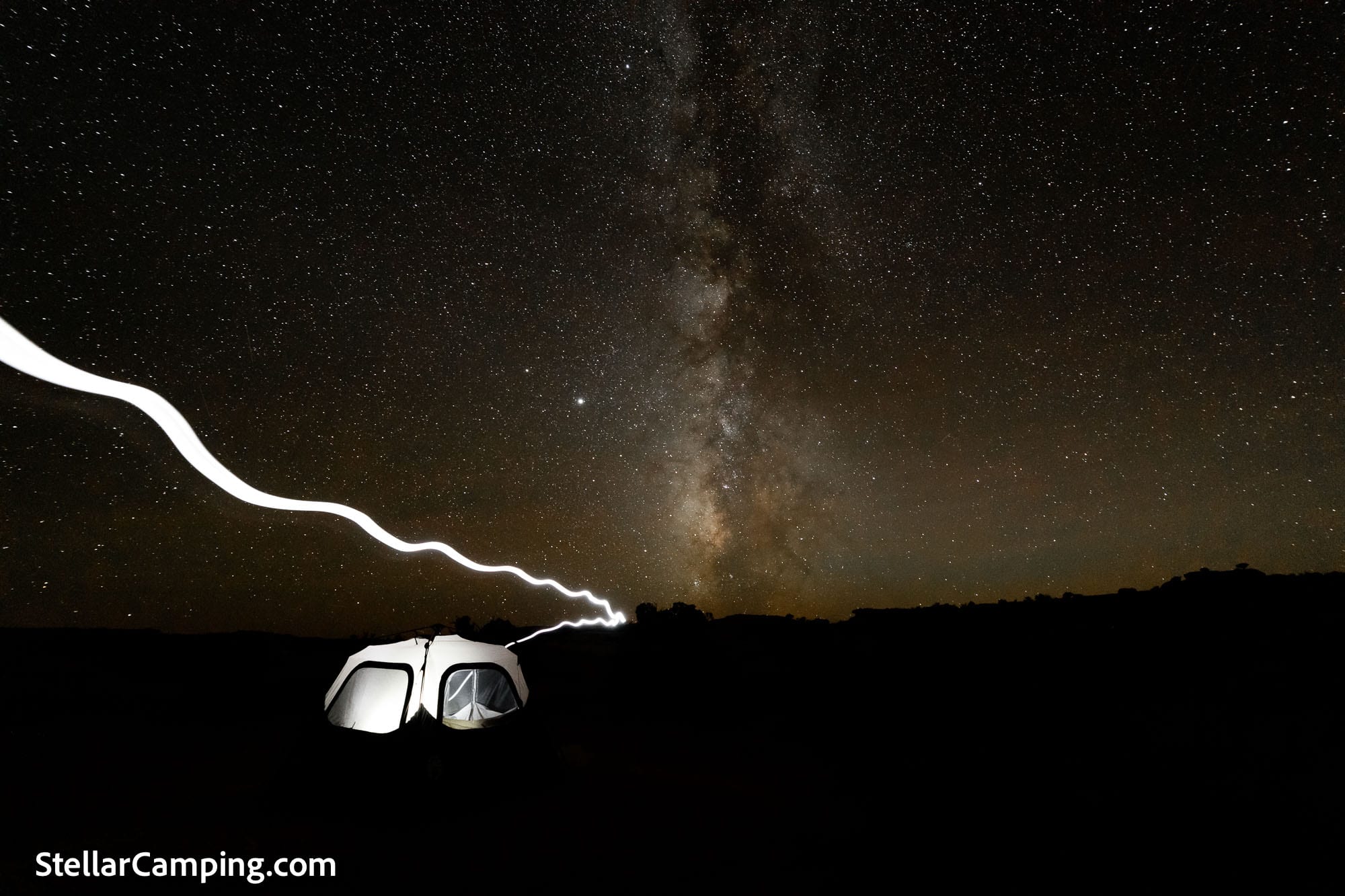 You'll need a light to cook, take care of personal needs, set up your campsite, and read or play games.
Lights can also create a festive and cozy setting. A bonus is that a camping light can serve as a back-up at your home in case of power outages—so remember to store your light in an accessible location!
Read on for guidance on choosing lanterns, headlamps, and flashlights for camping, as well as a few special types of lights.
Camping lanterns
First up: How to choose a lantern for camping.
The two basic types of lanterns are fuel-burning and electric.
Fuel-burning lanterns are the traditional choice—think a propane-burning lantern with a glass window, like the trusty Coleman Gas Lantern. These lanterns are quite bright, but this style can be somewhat noisy and heavy (definitely not good for backpacking). They also can get quite hot, and can't be safely used within a tent or other unventilated spaces. In addition to propane-burning styles, some fuel-burning lanterns use liquid-fuel tanks or isobutane/propane canisters, like the well-reviewed Coleman Powerhouse Duel Fuel Lantern and Primus EasyLight Camping Lantern.
Electric lanterns nowadays chiefly use LED bulbs. They're generally bright, portable, quiet, long-lasting, energy efficient, and safe—they're not hot to the touch, and no ventilation is required.
Many electric lanterns are battery-powered. They may use alkaline batteries (which do not perform optimally in cold weather) or lithium-ion batteries (which work better in the cold). Take note that lithium-ion batteries may only be used in specified devices. REI has a helpful guide to choosing batteries.
Some electric lanterns may be chargeable through USB ports, a 12-volt car outlet, solar power (the Goal Zero Crush is a great solar option), hand cranks, or a combination of charging options. We're also big fans of the Little Sun Diamond, which is designed by artist Olafur Eliasson.
When choosing a lantern, factors you'll want to consider include:
Brightness is measured in lumens
100 lumens is somewhat on the weak side for an area light but is sufficient for lighting within a tent – for a 100-lumen light, try the Black Diamond Moji Lantern
200-300 lumens is a generally good range for lighting an area – try the 250-lumen Black Diamond Apollo
500 lumens is very generous for lighting an area – try the 500-lumen Uco Gear Sitka
Brighter is not always better: bright lights may be too bright for a small space, cause unpleasant glare, use excess energy, bother wildlife, and run for a shorter time
Portability

Weight, size, and collapsibility all contribute to portability

Ease of use

Intuitive, easy-to-press buttons are important for an item you'll need to turn on in the dark
Waterproof or water-resistant

Resistance to water is indicated by IPX rating – IPX4 indicates some water resistance, and IPX8 means truly waterproof
Distance and direction of light (narrow vs. wide beam)
Some of the special features that may set lanterns apart include:
Hanging vs. freestanding

Hanging styles may use a hook, clip, or loop
Freestanding models may come with adjustable legs, which can help on uneven surfaces

Color of light (including rainbow colors, or red light to reduce glare and conserve power)
Remote control or smartphone control
Ability to charge phones and other items, such the LuminAID PackLite Max Phone Charger Lantern
Consider the XTorch, a solar-powered lantern, flashlight, plus smartphone charger. The company donates 25% of its retail sales profits to international relief.
Next: how should you choose a headlamp for camping?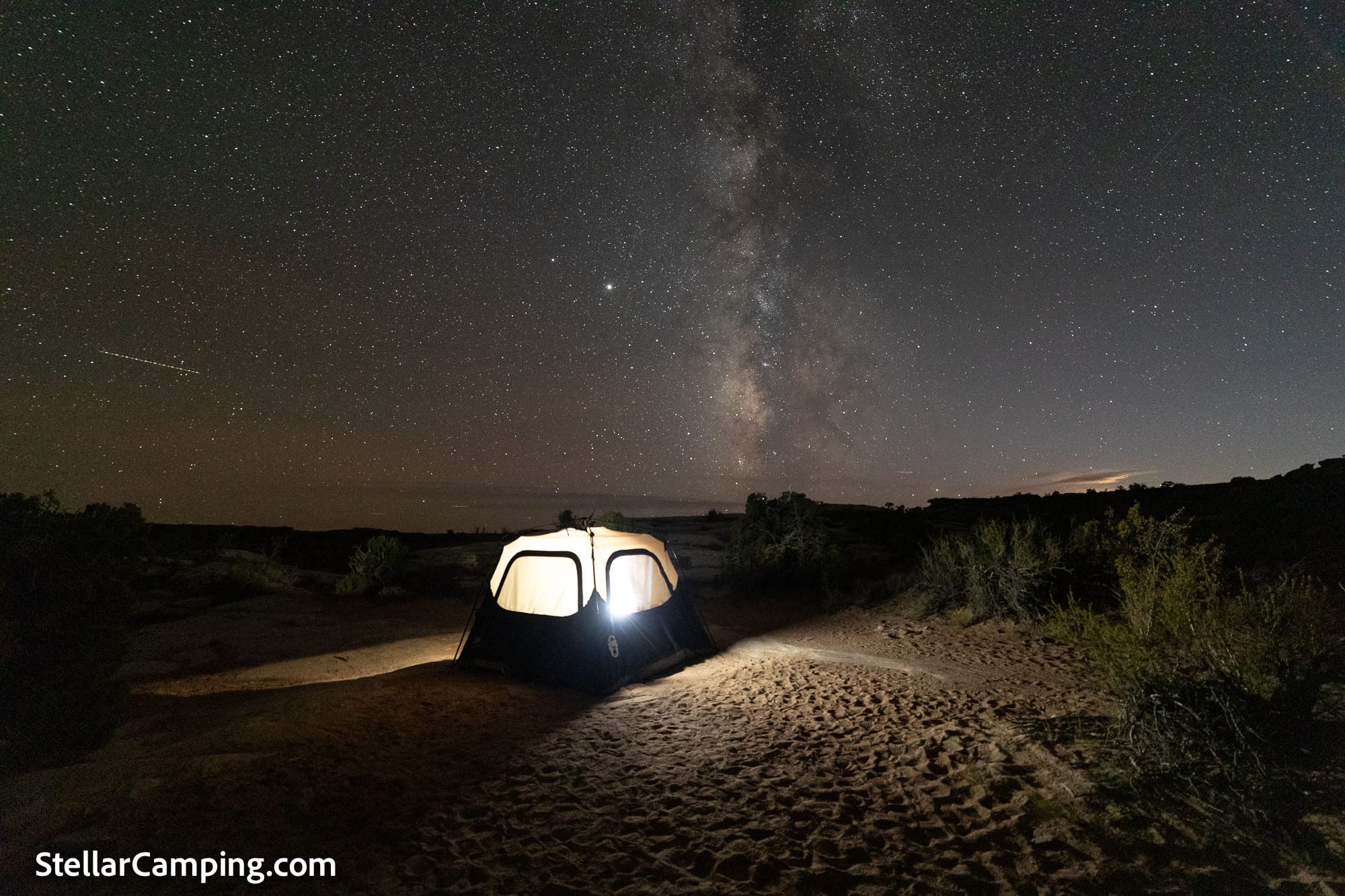 Headlamps for camping
Many campers put headlamps in the category of camping musts. Because they're hands-free and as portable as you are, headlamps are super-handy for activities like toothbrushing and midnight bathroom runs. They can also be used for finding your way on trails when night falls.
As with lanterns, lumens are a critical factor (though not the sole determinant of brightness—optical quality is also important). A headlamp with 150-250 lumens will do fine for reading and toothbrushing—a great choice in that range is the Petzl Tikkina, which is also super-affordable yet good quality. For way-finding, you'll want to choose a model with 250-500 lumens, like the Petzl Actik Core (which scores bonus points for using USB-rechargeable batteries) or Black Diamond Spot 350. Some headlamps have even more than 1,000 lumens, but that's not really necessary unless you're engaging in activities like spelunking, night biking, or search-and-rescue.
Another critical factor is burn time, which varies drastically by model and according to whether you're using high or low settings. A relatively short burn time for the low setting is 50 hours or less; a burn time of 100-200 hours is quite good. For the high setting, burn time is often 2-5 hours, though some models last as long as 10 hours or even longer.
Beam distance is important if you'll be hiking at night. Many models reach 200-300 feet, which should be fine for most campers.
When it comes to batteries, some headlamps use rechargeable batteries, which can be more environmentally friendly, though burn time may be somewhat lower. As noted for lanterns above, lithium-ion batteries perform somewhat better in cold conditions than do alkaline, plus they're a bit lighter. Some headlamps allow users to use either USB-rechargeable batteries or AAA batteries, which offers nice flexibility.
Features to look for in a headlamp may include water resistance, a tilting head, dimming, a battery reader, a locking feature to prevent the light from accidentally turning on, spotlight/floodlight modes, a strobe setting (blinking light that ups your visibility), and a red-light setting (which won't hurt other campers' eyes, is less likely to awaken bedfellows, and uses less power). Some models come with customizable settings that certain campers love and other campers just find confusing.
An ill-fitting or clunky headlamp can make your forehead a little sore, though it can help to wear a hat underneath. Look for an ergonomic design or for a lighter-weight headlamp of 2 ounces or less. A good lightweight choice is the Black Diamond Spotlite 160, which also works great for backpacking.
When it comes to picking a specific model, the choices listed above are all excellent options. For kids, the Black Diamond Wiz is a fun and affordable choice, with colorful lighting and a kid-proofed battery compartment. In general, Black Diamond, Petzl, BioLite, Fenix, and Princeton Tec are trusted manufacturers. We advise against choosing a headlamp costing less than about $20, as quality and durability can suffer.
Camping flashlights
Flashlights can also be helpful around the campsite, though aren't necessary if you've got a reliable headlamp. For camping purposes, you'll probably want an LED flashlight with at least 100 lumens. Ideally, look for durability (think aluminum or graphite), water-resistance (aim for IPX4), good battery life, and relatively low weight (especially if you'll be using it for hiking). Other useful characteristics include multiple light settings, a red-light mode, a locking device, and ease of use when wearing gloves.
Here are a few recommendations for flashlights:
Budget:
Mid-price:
Higher-end:
Special lighting for camping
Finally, some special types of lighting can help perfect your camping trip.